Our contribution for the future
We do our part to protect the environment by questioning our own actions, training employees and optimising processes and structures. Our goal is to reduce our ecological footprint and thus contribute to saving CO2 and reducing greenhouse gas emissions. For the sake of the environment.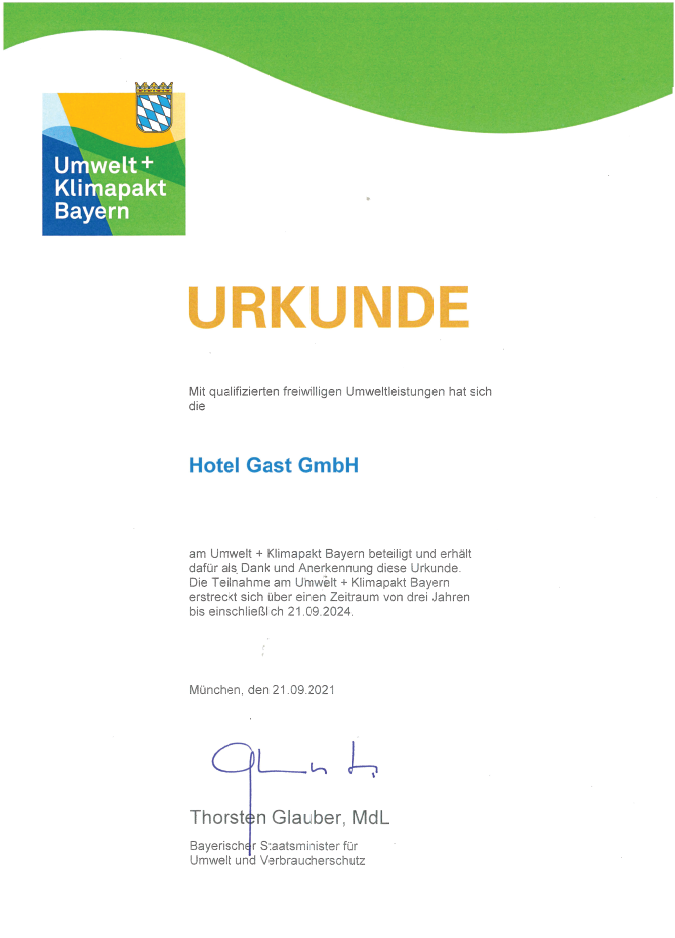 Every guest is the focus of all our efforts!
All of us
as human beings
we know how to accept the differences, strengths and weaknesses of guests, partners and colleagues. Our personalities make the difference. They are our strength. We accept criticism, learn from mistakes and are aware of our role model function.
As hosts
we apply our training, expertise, skills and experience professionally and pass on our knowledge, continue our education and embrace new things. We question things that have always been done that way. They do not have to be right.
As a service provider
we always accompany our guests attentively and respond to their individual wishes and needs. No activity is so important that we cannot interrupt it for a glance, a smile or a greeting to our guests.
As a team
we stick together, look out for each other and treat each other with respect. We talk to each other, not about each other. Everyone can rely on each other. Every opinion counts and everyone is important. Communication is the key to our success.
As entrepreneurs
we focus particularly strongly on the issue of sustainability. Use is better than waste. We are always aware of this and know that waste separation and waste avoidance are essential. We use electricity, water and other resources consciously and sparingly and are always looking for new and creative ways to do this even better. We take care of our hotel and look after it.
ensure guest satisfaction and thus the future of our hotel as a company.
Every guest is the focus of all our efforts!