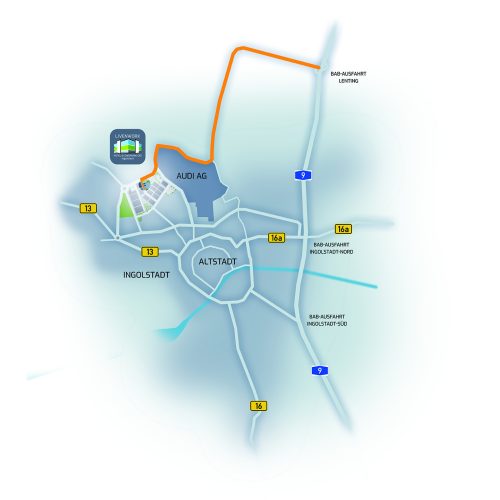 Arrival by car
Motorway BAB 9 in the direction of Nuremberg or Munich, exit Lenting in the direction of Audi AG/GVZ. Pass Audi AG and cross the railway overpass. After the railway overpass there is a petrol station on the left.
Turn left after the petrol station. Hall J with the hotel in the GVZ is the second building on the left.
Arrival by plane
Munich airport approx. 70 km away, Nuremberg airport approx. 80 km away. From Munich airport continue by car via BAB 9 in the direction of Nuremberg. From Nuremberg via BAB 9 direction Munich exit Lenting (Audi AG/ GVZ). Or from Munich Airport take the Ingolstadt Airport Express to the "KVB Betriebshof" stop.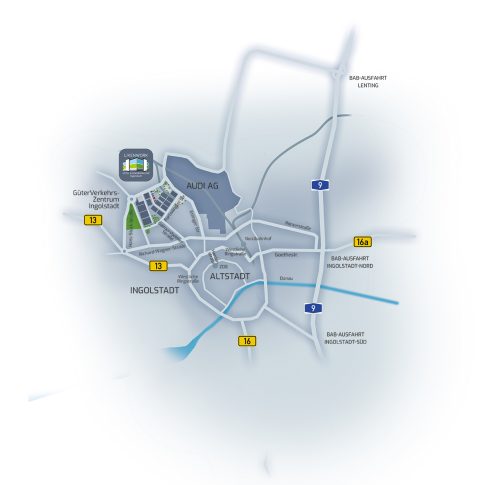 Arrival by train
From Ingolstadt main station by taxi approx. 20 min. By bus from the station forecourt in the direction of ZOB (Zentraler Omnibus Bahnhof). Change to line 11 in the direction of Audi AG/GVZ and get off at the "Audi Tradition" stop. To the right of the "Audi Tradition" building, walk approx. 50m to the "Hotel im GVZ" building. Please use entrance 2. The hotel is located on the 2nd floor. (Footpath: approx. 2 min.)